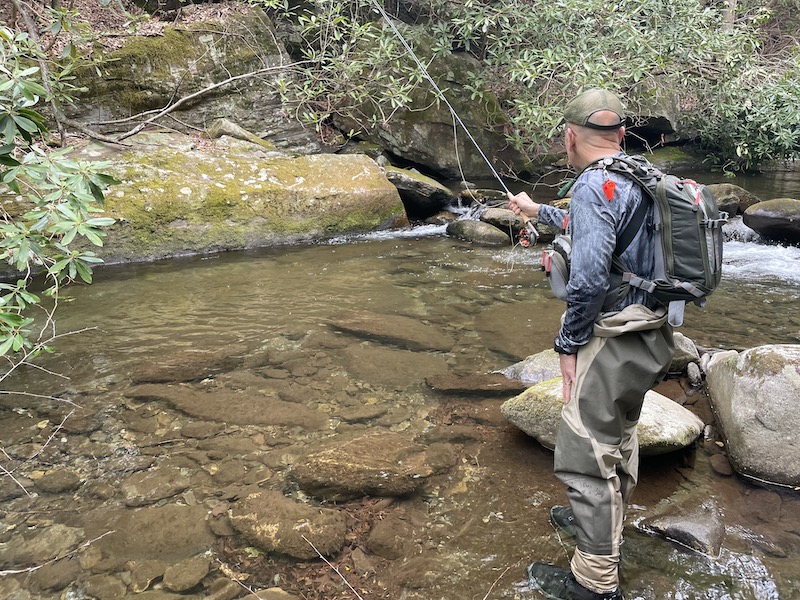 Location
Smoky Mountains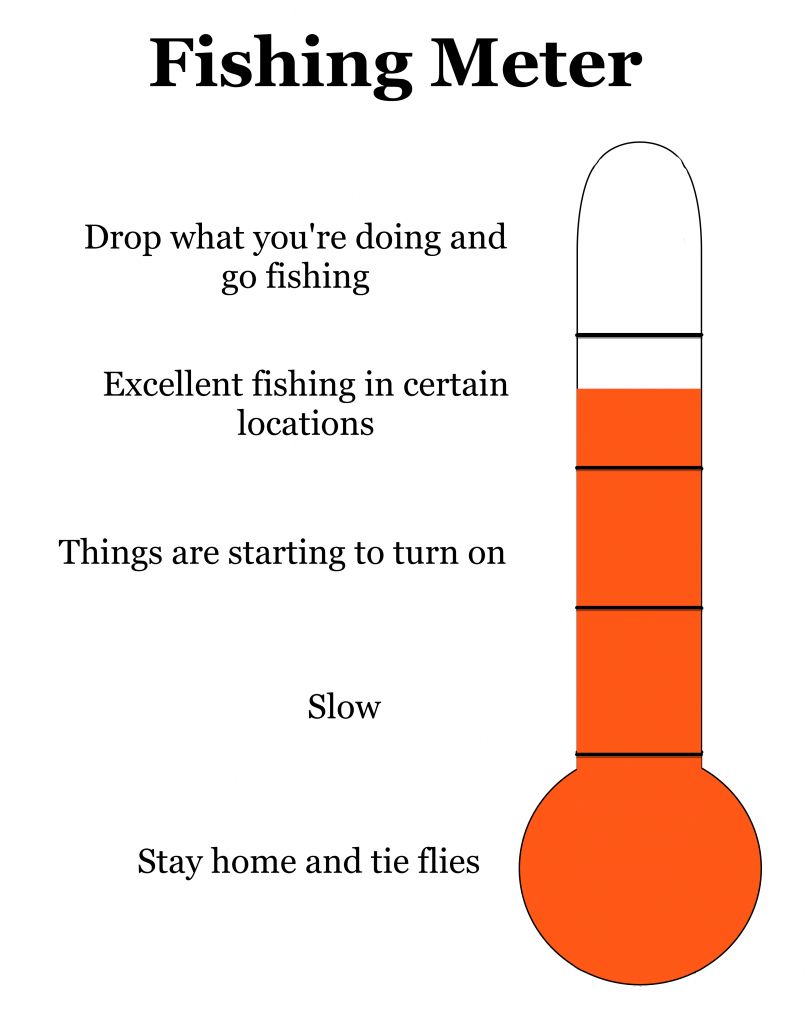 Water Levels
Little River: 173cfs / 1.92 feet
Pigeon: 337cfs / 1.86 feet
Oconaluftee: 430cfs / 1.73 feet
Cataloochee: 75.5cfs / 2.49
Water Temperatures (approximate)
Low elevations: 54 – 58 degrees
Mid elevations: 52 – 56 degrees
High elevations: 50 – 54 degrees
Current Conditions
Fishing has been pretty good of late. It's that weird time of year when days are getting warm but trees haven't filled in all the way yet. A lot of direct sunlight is on the water in the afternoon making for spooky fish. That will change in a week or two.
Water is actually running slightly below normal for this time of year, especially on the North Carolina side of the park. Water temperatures are approaching perfect.
Projected Conditions
The week ahead is, shall we say, unsettled. We'll have some thunderstorms moving through and estimated rain totals change every time I look. More than likely we'll see around 1 1/2″ of rain over the course of three days. The bulk of it will be on Monday and Tuesday with lighter rain likely on Wednesday. A moderate cold front will follow.
I'm expecting water to come up a bit. How much is hard to say but I don't think it will be a total blowout. Folks planning to fish on Tuesday or Wednesday should have the biggest concern for high water. Folks fishing Monday and Tuesday should plan on some wind and keep an eye out for thunderstorms. In any case, I'd keep an eye on the stream gauges this week. Reading Stream Gauges.
Tips
Fishing should remain good this week. Topwater activity has been very good recently. For me, it's been on tan caddis and Thunderheads, but I'd say any common attractor should do well. If water comes up this week, plan on doing more nymphing. In addition to what's mentioned below, rubber-legged stonefly nymphs, Wooly Buggers and San Juan Worms are always good in higher water.
Hatches/Fly Suggestions
We're starting to transition to "yellow season," meaning much of what you'll see hatching will be yellow. Blue Quills (#18) and Light Hendricksons (#14) will likely still be seen here and there. You'll probably see a fair number of Red Quills (#14-12) and March Browns (#14-10) as well.
But look for bigger numbers of sulphurs (#16), Light Cahills (#14-12) and Yellow Sallies (#16) over the next 4 or 5 weeks. Caddis are also abundant this time of year depending where you are. A tan body in a #14 will do the trick.
As always, a good selection of attractors will get you through most situations. Parachute Adams, Parachute Hares Ears, Thunderheads, Adams Wulffs and Royal Wulffs always do pretty well. But as mentioned above, you'll want to be sure to have some dry flies in yellow. A Neversink in #16 – 14 is a staple for me. So is a Yellow Stimulator. I'd also have a selection of Parachute Sulphurs and Cahills.
For nymphs, try Hares Ears, Pheasant Tails, Copper Johns and Tellico Nymphs. And with so much stuff hatching, now is a pretty good time to start experimenting with soft hackles. Check out my Hatch Guide for complete hatch information.
The featured fly this month is a Sulphur Comparadun. Sulphurs are one of the more reliable hatches in the Smokies. They've already started and should be around until at least the end of May. Most any sulphur pattern will fit the bill but if you run across any stubborn, slow water trout, the Sulphur Comparadun is an excellent choice!
Featured Fly