Get to know Rob by listening to his interview on the Destination Angler podcast.
Rob Fightmaster, owner and primary guide, has been fly fishing for more than thirty years and has more than twenty-five years of experience in various aspects of the fly fishing industry. Rob has fished all over the United States. He has been a professional guide in Kentucky and Tennessee. And he has taught numerous fly fishing schools, fly tying classes, rod building classes. Rob has introduced hundreds of people to this sport. Along the way, Rob worked in every aspect of the fly fishing retail business, tied flies commercially, and coordinated a variety of fly fishing special events.
Rob started his own business, Fightmaster Fly Fishing in the fall of 2006. Initially, it was a catch all business. It allowed him to work intermittently as a freelance writer and an independent consultant for existing and aspiring fly fishing properties across North America. It serviced clients from North Carolina to British Columbia. All the while, he maintained a small guide business on the side. Late in 2008, he decided to follow his passion and focus solely on guiding and instructing. Since then, he has been listed as "one of the South's best fishing guides" by Garden & Gun magazine. He was an Orvis Guide of the Year finalist in 2015, 2016, 2017 and 2019.
Rob also works closely with Little River Outfitters in Townsend. It is one of the finest fly shops in the country. Rob teaches all of their beginner fly fishing schools. He also teaches more advanced and specialized classes offered through the store. He produces many of the locally favorite fly patterns sold in the shop. Rob regularly provides fly tying clinics at the shop, as well. Clients from around the country have described Rob as someone with an endless supply of patience and one of the best fly fishing instructors anywhere.
Prior to starting his own business, Rob was the Fly Fishing Program Director at Blackberry Farm. During his six years there, he created a fly fishing program from the ground up. He opened a fly shop, restored a trout stream, and received the Orvis Endorsed Lodge of the Year two years in a row. This was the first (and so far only) lodge in the eastern United States to receive the award and the only lodge in the country to ever receive it back to back.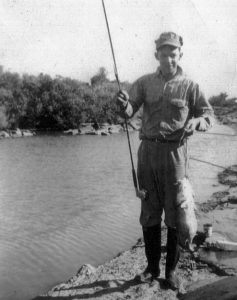 While most of his knowledge comes from decades in the industry and thousands of days on the water, Rob credits his grandfather with getting him started and passing along a love of fishing and the outdoors. Do-Dad, is on the left in 1932 with a Montague bamboo fly rod. Rob restored the rod many years ago and still catches fish with it today!