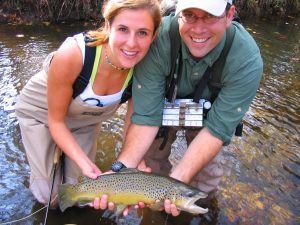 Fightmaster Fly Fishing is a service-minded fly fishing guide business with more experience chasing trout than we sometimes care to admit! We love the Smoky Mountains and the trout that live in their streams and we believe an old fedora and a hint of pipe tobacco in the air can be just as important to a fly fisherman as the latest space-age graphite rod. Guess you could say we're from the old school. It's the fly fishing experience that matters, and whether a first-time caster or a veteran angler, we're certain we can offer you an experience you'll remember for years to come.
If you're not familiar with me or this area, you'll pick up a lot of info throughout the site, but here's an overview. I live in a pretty awesome area. Home is Maryville/Alcoa which is about twenty minutes from Knoxville. Twenty minutes the other direction is Great Smoky Mountains National Park which is where I spend most of my time. The park is over 800 square miles and divides almost equally between East Tennessee and Western North Carolina.
Great Smoky Mountains National Park is home to wild rainbow and brown trout as well as native brook trout. It is one of the few wild trout sanctuaries in the Eastern United States. It's even rarer in the Southeastern U.S. where nearly all trout fisheries rely on stocked fish. The park has not stocked a trout in nearly fifty years!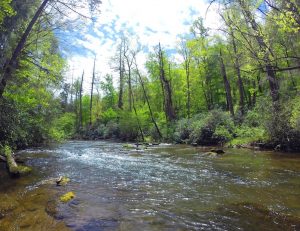 I guide almost everywhere in the park, but most of my trips are on the Tennessee side. Townsend and Gatlinburg are the two primary gateway towns on the Tennessee side. There is within fifteen minutes of these towns on the Little River and Pigeon River systems. Or there are numerous roadside and trail options that will take you a little farther off the beaten path. And for as many options as we have for fishing in the Smokies, there may be even more options for lodging when you stay here. Hotels, lodges, and rental cabins are abundant just outside the park. There are numerous backcountry and frontcountry camping options inside the park. I am happy to help with recommendations for any of these.
In 2018, I purchased a Hog Island Skiff that I will begin guiding out of in 2019. In addition to fishing wild trout streams in the Smokies, one of my other passions is fly fishing for carp. For years, I have done this by myself, sight-casting for them on the numerous mud flats of East Tennessee out of a canoe. It's strikingly similar to fishing the saltwater flats for bonefish or redfish. Most people who try it once are addicted!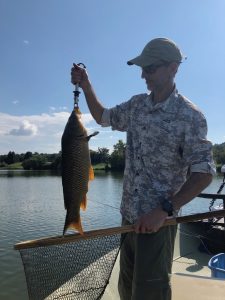 The main reason I purchased the new boat is to begin sharing this experience with others. The 30hp motor allows us to get to the flats in a hurry. Its shallow draft will float in the shallowest of places. The boat has a poIing platform and push pole to navigate the flats with extreme stealth. The Hog Island boat has also opened up a number of other guiding destinations for me, such as area lakes and lowland rivers for bass and stripers. Of course, this is all done on the fly – I don't know any other way!
I will also be making a return to boat fishing on the Clinch. But keep in mind this isn't a drift boat and I don't offer float trips in the traditional sense. We'll fish the Clinch when they're running a generator, streamer fishing for trophy rainbows and browns. If you want to fish the Clinch when the generators are off, I'll continue offering wade trips there as I always have.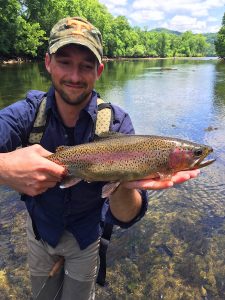 If you're not familiar with the Clinch River, it is located about twenty minutes north of Knoxville. This is the destination for folks looking for big water and big fish. Nearly 75 yards wide in many places, this extremely fertile tailwater grows some huge trout. In fact, the Tennessee state record brown trout came from this river. Along with bigger water and bigger fish, expect to find bigger crowds on this river during times of low water. This river is a tailwater, meaning its flows are controlled by dam release. For wade trips, we may need to switch around start times or even find a different location altogether if the water releases are not in our favor. Or, as mentioned above, boat fishing may be a good option if they're not releasing too much water. One generator is ideal for that.
The other area guide in the Cherokee National Forest. This not to be confused with the town of Cherokee in North Carolina. The Cherokee National Forest is split into two sections. One is to the southwest of the park and the other to the northeast. The terrain is very similar to what you find in Great Smoky Mountains National Park. But many of the streams have a mix of wild trout and hatchery supported trout.
With only a fraction of the tourism seen in the Smokies, Cherokee National Forest does not have near the lodging options, restaurants, etc. This is not a primary destination for me but one that I will sometimes recommend at certain times of the year. Or I may recommend it if water conditions are unfavorable in the park. I also have some repeat customers that request to go here just to see and fish a new area.
In addition to guiding, I am an instructor. While all guide trips include some degree of instruction we can incorporate as much basic casting instruction, etc. into any trip if you are new to the sport. If you would like a comprehensive introduction to fly fishing in more of a class setting I am an instructor in the beginner fly fishing schools at Little River Outfitters in Townsend. You'll find a link to more info on these schools on this site. We offer approximately two schools a month from March through October. I teach all of these schools with Walter Babb, and I conduct a number of specialty classes as well.
Speaking of teaching, I've had a number of folks express interest in tenkara over the last couple of years. It is an old Japanese style of fly fishing that thrives on simplicity. It is extremely effective in the mountains and actually closely resembles some of the methods used by Smoky Mountains of old. I'd be happy to teach you this technique on any mountain wade trip.
Lastly, I am an Orvis Endorsed Guide. Orvis has been around since 1856 and is the world leader in fly fishing. Their endorsed guide program is just a means of telling their customers that these guides meet the same standards of quality and excellence that Orvis has exemplified for well over a century. Orvis is a fantastic company and I'm proud to be affiliated with them and have their endorsement. You can click the Reviews tab on this site to go to my Orvis page. See what past customers have said about me! I encourage you to write a review there after we've had a chance to fish together.