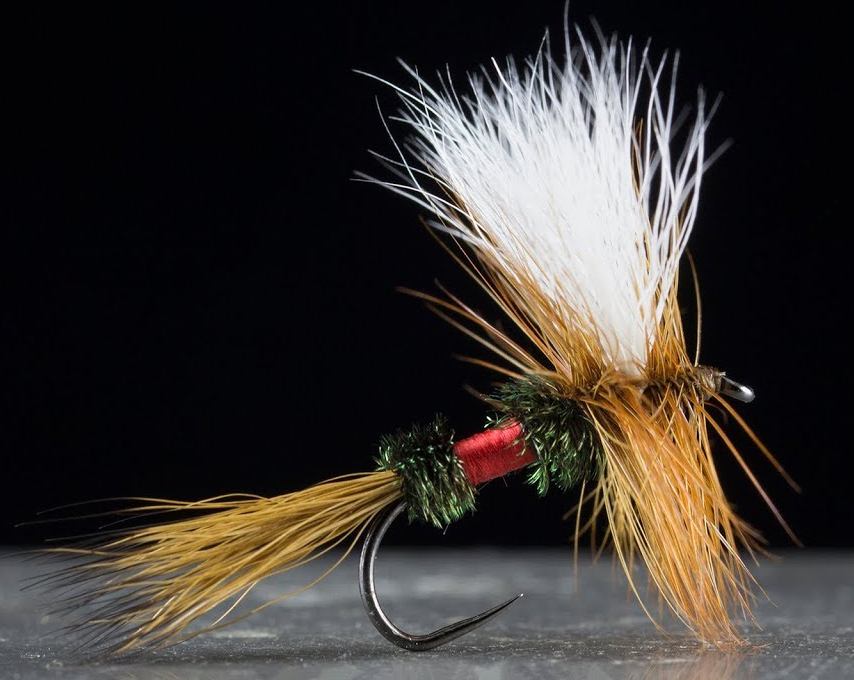 Truly a dry fly for all seasons, the Royal Wulff is one of the most popular and productive dry flies ever devised. It is a perfect example of an attractor pattern with its bright red band in the middle of the body. But for me, the fly's two greatest attributes are its buoyancy and visibility. Those are two key characteristics for a Smoky Mountain dry fly. However, while its effectiveness is rarely in question, its origin is.
The pattern dates back to the late 20's and has long been, for obvious reasons, attributed to well known fly fisherman, Lee Wulff. However, Wulff and fellow New York fly fisherman, L.Q. Quackenbush were independently working on hair wing substitutions for dry flies around the same time. Wulff concocted a number of hair-wing patterns in a variety of colors, referred to as "Wulffs." Quackenbush had more specifically been working with fly tyer Reuben Cross to modify the popular Royal Coachman dry fly.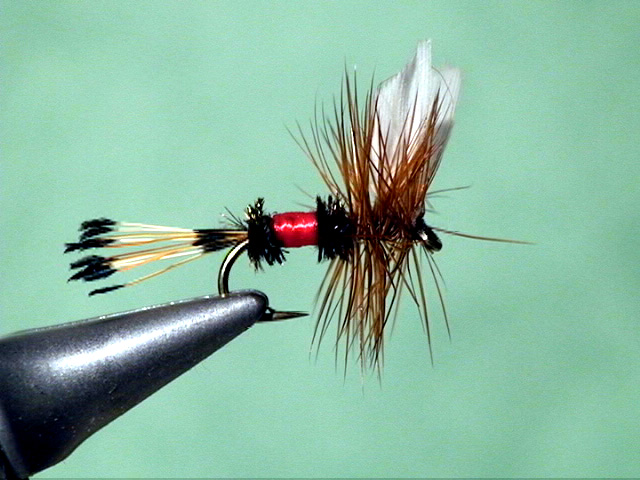 Many believe that Quackenbush is actually the originator and what we now call a Royal Wulff is actually the Quack Royal. Personally, I like the name Royal Wulff better, but how nice does the Royal Quackenberry sound? Or maybe the Royal Quack? In any case, between Wulff's extensive work with hair-wing flies and his ultimate celebrity status, history, as it often does, got a little altered. Here's a little more detailed account from Trout by Ernest Schwiebert, 1978:
"Hair-wing flies had their beginnings on the Henry's Fork of the Snake before the First World War, when Benjamin Winchell and Carter Harrison first concocted them in honor of Alfred Trude, their host at a large ranch in Idaho. The first hair wings subsequently traveled with one of the party, Colonel Lewis Thompson, to the salmon rivers of the Maritime Provinces. These primitive flies were dressed down-wing over the body, and it was not until shortly before the Depression years that hair-wing dry flies evolved. Ralph Corey lived on the Muskegon in Lower Michigan, and his Corey Calftails were down-wing dries that became widely popular after the First World War. Wings tied upright and divided of hair appeared almost simultaneously on the Beaverkill and the Ausable of New York in about 1929.
"The hair-wing Royal Coachman dry fly was the creation of L.Q. Quackenbush, one of the early stalwarts of the Beaverkill Trout Club above Lew Beach. Quackenbush liked the fan-wing Royal Coachman, except that it was fragile and floated badly, and in 1929 he suggested to Reuben Cross that white hair wings might work better. Cross tied some using upright wings of calftail and tail fibers of natural brown buck. It worked perfectly, and Catskill fishermen soon labeled it the Quack Coachman in honor of its peripatetic inventor.
"Lee Wulff also worked out his famous Gray Wulff and White patterns in the Adirondacks in 1929, in a successful effort to find imitations of the big Isonychia duns and Ephemera spinners that would float well on the tumbling Ausable at Wilmington. These Wulffs have proven themselves superb flies, from Maine to California and British Columbia, and spawned a large family of patterns using different bodies and hackles. Wulffs have so completely dominated the upright hair wings that L.Q. Quackenbush and his hair-wing Coachman are almost forgotten, and his innovation is now commonly called the Royal Wulff."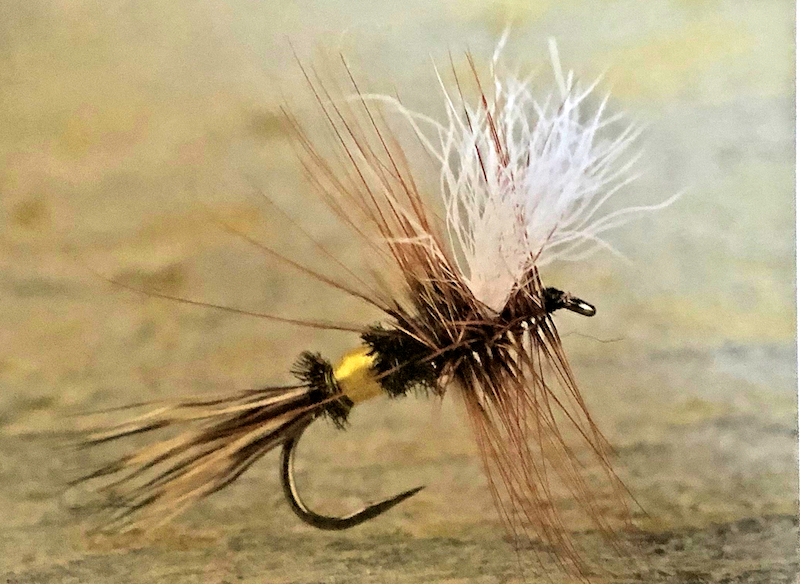 In more recent decades, there have been a number of other variations on this pattern. Locally, there's a Tennessee Wulff that has a lime green band in the middle rather than red. Furthermore, there's a Carolina Wulff that has a yellow band as an alternative to the original red. Anyone who spends much time fishing the Smokies knows that lime green and yellow are both very effective colors for flies. So, it's no wonder these variations emerged from local tyers.
On a side note, back in 1998 I devised a version of the Royal Wulff that had a yellow floss band instead of red. I wasn't aware of a Carolina Wulff at the time and thought I was really doing something clever and original! But it just goes to show how easily the origins of these fly patterns can get confused. I've tied countless original fly patterns over the years that I never even named, much less published. So, who is to say that someone else won't tie one of those patterns 10 years from now? They might publish it, and end up with an iconic fly that was actually originated by me?!?
Royal Wulff Fly Pattern
Hook: TMC 100 (or equivalent) #18 – 10
Thread: Black 8/0
Tail: Moose body hair
Wing: Calf body hair
Body: Peacock herl
Band: Red floss
Hackle: Brown rooster neck