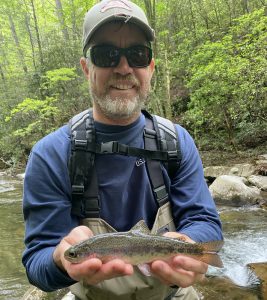 Mountains
I like June. It's still mild enough where lower elevations fish well most of the month, at least early and late in the day. But the real action is in the mid and high elevations, mostly up the trails. Hatches are usually still happening and terrestrials like beetles, ants and inchworms are beginning to make regular appearances.
As mentioned above, we should still see decent hatches throughout the month. March Browns will still be hanging around. Yellow Sallies will be abundant and so will sulphurs, particularly early in the month. And most streams will see sporadic good hatches of tan caddis.
These hatches will pop off sporadically through the day and even when you don't SEE a hatch, the fish have seen enough stuff where they're usually looking up. Sometimes the main event, usually a heavy mixed bag of sulphurs, Light Cahills and Sallies, won't get going until near dark.
In any case, we're entering the "yellow season," when most of what hatches is yellow or at least lighter in color. Yellow Stimulators, Neversinks, yellow Parachute Adams, etc. will be good dry fly choices for a while.
Clinch
This really should just be a copy and paste forecast for the Clinch. The river that seems to just perpetually have two generators going still has two generators going. It seems that it might be lightening up just a little and we are starting to see some drier weather, so maybe… just maybe, we'll start seeing some better wade schedules this month.
If we do, you'll see the normal daily hatches of midges. Play around with some weird patterns or go with the ol' staple black Zebra Midge. A Pheasant Tail Nymph is also a good bet this time of year.
There may still be remnants of a sulphur hatch hanging around. It's been really sporadic in recent years but some days will show pretty heavy hatches. Sometimes it just depends what part of the river you're on. In any case, it's always a good idea to have at least a small assortment of sulphur patterns with you this time of year.