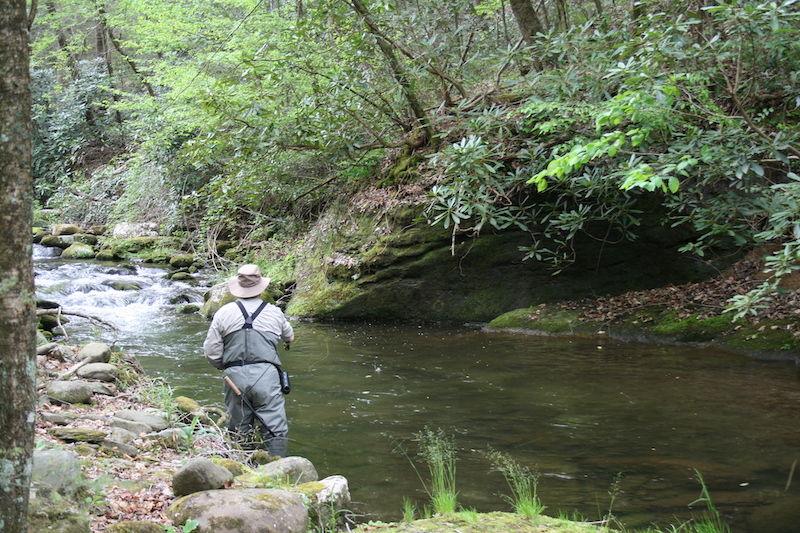 Location: GSMNP East Tennessee
Nearest Town: Townsend, TN
Species: Rainbow trout
Average Size: 6"
Stream Size: Moderate
Pressure: Moderate
Type of Water: Freestone, Mountain
Boat Access: None
Best Times: Spring and fall
Favorite Flies: Attractor dries
Nearest Fly Shop: Little River Outfitters – Townsend
Camping:      
Little River Campground
Cades Cove Campground
Backcountry Campsite #17
Directions:
From Townsend, travel southeast on 73 to GSMNP entrance. At the "Y" in the road, turn right on Laurel Creek Road (toward Cades Cove). You will immediately pick up the stream on the right and find a few pull-offs where you can access the stream. At approximately two miles, the road ceases to follow the stream. There is a parking area at this point where you can access the backcountry portion of West Prong, but there is no trail so you will have to return through the stream.
A trail does intersect the stream approximately two miles up from the road. This is the West Prong Trail and can be accessed directly across the road from the Tremont Institute. Again, the trail does not follow the stream at any point but will grant you access to the upper reaches of West Prong at their intersection at Backcountry Campsite #17. To reach the trailhead, travel southeast from Townsend on 73 and turn right at the "Y" on Laurel Creek Road. Take your first left toward the Tremont Institute. The Tremont Institute is approximately two miles back on your left, and the trailhead is at the parking area on the right, across the road from Tremont.