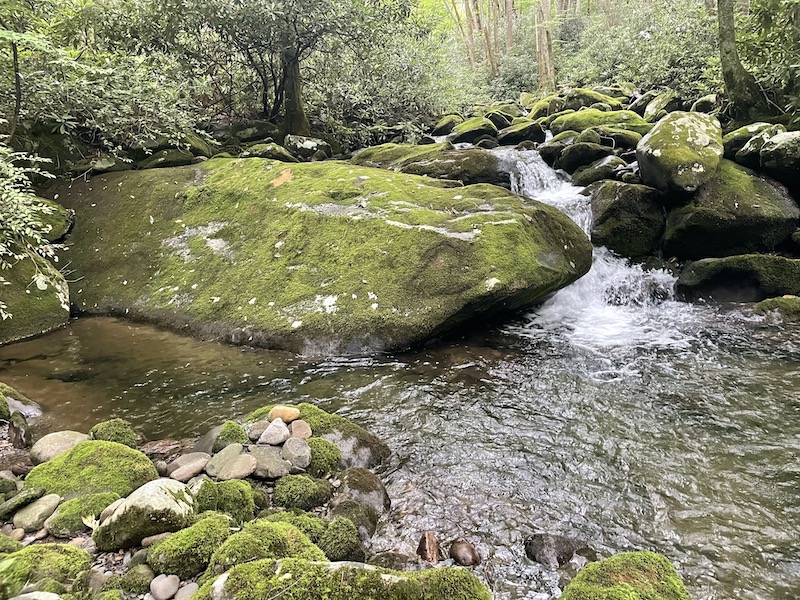 Location
Smoky Mountains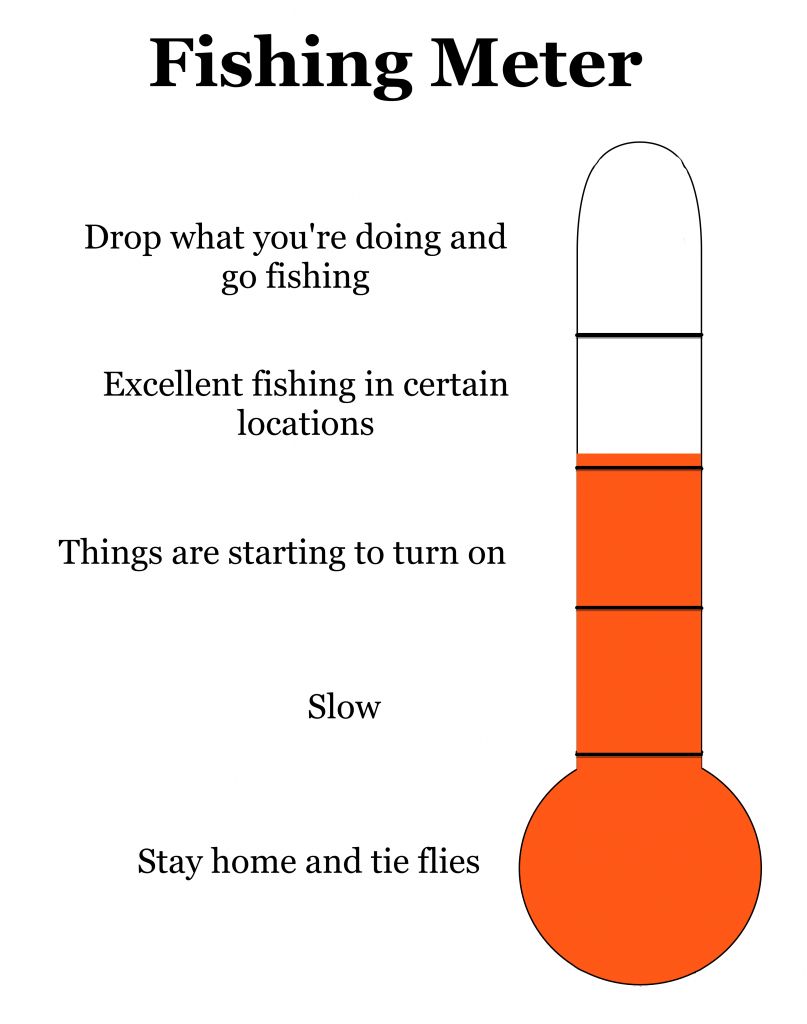 Water Levels
Little River: 103cfs / 1.61 feet
Pigeon: 169cfs / 1.55 feet
Oconaluftee: 208cfs / 1.29 feet
Cataloochee: 36.2cfs / 2.22
Water Temperatures (approximate)
Low elevations: 64 – 68 degrees
Mid elevations: 61 – 65 degrees
High elevations: 59 – 63 degrees
Current Conditions
Conditions are very August-like. Water is a little low (though we got a little help from some rain yesterday) and temperatures are warm in the lower elevations, reasonable in mid elevations and good in the high country.
Projected Conditions
Temperatures are relatively mild (for August) through the weekend with spotty chances for rain. Enjoy it while you can… looks like we get hot again next week.
Tips
I would completely stay away from the lower elevation streams – this includes really anything under 2000′. Water temps are warm and fish will not be very active. And if you do catch one you'll be stressing it to the point where it likely won't survive. Mid elevations should be good in the morning and early afternoon. High elevations should fish well all day but will likely have the least amount of water, so expect very spooky fish.
Hatches/Fly Suggestions
Most of your fishing is in pocket water this time of year and it's tough to beat a dry fly/dropper rig. For a dry fly, I like anything that floats well and that I can see, probably in the size #16-12 range. I prefer something yellow and probably foam. But most any attractor will get you through most situations. Parachute Adams, Parachute Hares Ears, Thunderheads, Adams Wulffs and Royal Wulffs always do pretty well. But as mentioned, you'll want to be sure to have some dry flies in yellow. A Neversink in #16 – 14 is a staple for me. So is a Yellow Stimulator. I'd also have a selection of Parachute Sulphurs and Cahills. For nymphs, try Hares Ears, Pheasant Tails, Copper Johns and Tellico Nymphs.
During the heat of summer when hatches are sparse, attention always turns to terrestrials and there are a number of ways to incorporate them on either end of your dry/dropper rig. Fish are feeding a lot on ants and beetles. Inchworms are abundant as well and a Green Weenie can be a killer this time of year. It's a great fly to drop off a dry fly. Check out my article Hidden Terrestrials for a different approach to your terrestrial fishing,
Check out my Hatch Guide for complete hatch information.
Featured Fly
This is not the first appearance of the Green Weenie as a featured fly but it's a terrific fly this time of year. Definitely one of my favorite summer "nymphs" to fish as a dropper.