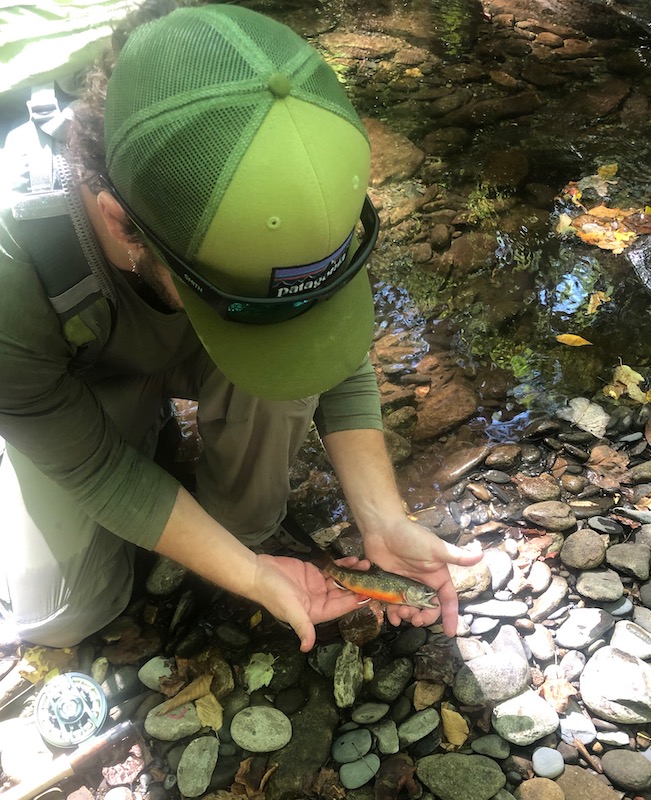 Mountains

October was kind of the tale of two seasons around here. We started the month still in a drought and record high temperatures in the 90's. Cooler temperatures arrived mid month and finally a little rain. As I'm writing this (10/30) we're in the midst of receiving what should total about 2″ of rain and I may have to cancel a couple of trips due to high water! All or nothing weather patterns sure seem to be the new norm.
November will start off with our first freezing temperatures of the year but start getting milder in the first week. I'm hoping for a mild November and then I'm ready for a cold winter this year! November typically sees cold mornings and mild afternoons. The best fishing in the park will be in the afternoons and in lower elevations. Delayed Harvest streams outside the park should fish okay all day.
For the patient and persistent, November is a good time to pursue large pre and post spawn browns in the Smokies – I prefer to leave them alone when they are actually spawning. These are not "numbers days." You spend a lot of time looking and not fishing so, it's definitely not for everyone. I know I've personally spent more of these NOT catching fish than catching. But on the days when it does come together, it's pretty spectacular!
And this is definitely not beginner level stuff. If and when you do get a shot at one of these fish, you usually don't get a second chance at anything so you need to be stealthy and you need to be able to cast.
For those not wanting the torture of stalking big browns, fishing the lower elevation streams for rainbows should be pretty productive. Expect some afternoon surface activity on sporadic caddis and BWO hatches. Otherwise, Pheasant Tail and Prince nymphs should do the trick.
Clinch River
This year, I feel like I could just copy and paste the same forecast every month for the Clinch. There has just been no rhyme or reason to their generation schedules this year. Out of nowhere, you'll get four or five days of good water. Then, with no change in weather conditions they'll generate 27/7 for three weeks straight.
My only recommendation here is to monitor the water releases. If you find a favorable schedule, go and fish Zebra Midges and small Pheasant Tails.