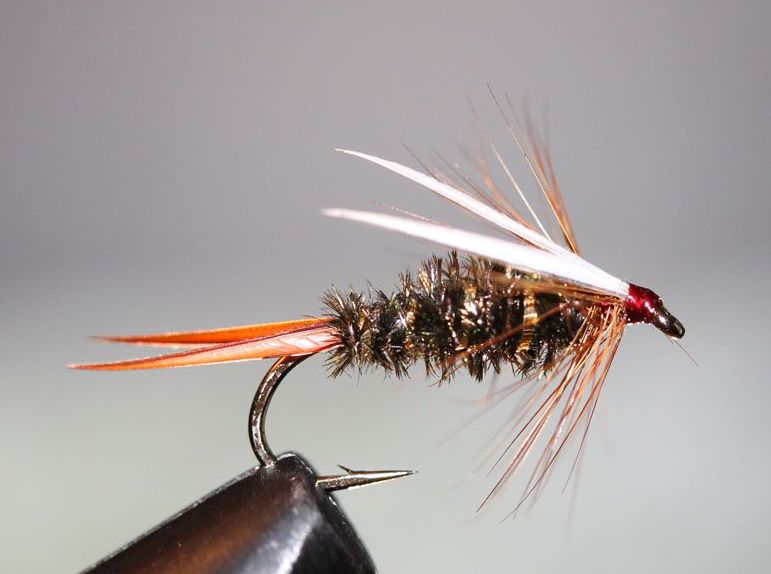 Whether describing a nymph, dry fly or streamer, an "attractor pattern" refers to a fly that doesn't really imitate anything in particular. It could be that the fly is relatively generic and looks like a lot of different things. An Adams dry fly, a Pheasant Tail Nymph or a Wooly Bugger would all match that description. An attractor could also be a fly pattern that really doesn't look like anything at all.
I think the Prince Nymph definitely matches that second description. Its body, hackle and general color scheme might suggest some sort of mayfly nymph or caddis larva. Though it's thick, split tail is more reminiscent of a stonefly nymph. But those white "horns" on the back? While I don't know of any aquatic insect that has anything like that, perhaps it is suggestive of the white back on an Isonychia nymph. But there certainly don't need to be Isonychia nymphs present for this fly to work.
That's because this fly works well nearly all of the time and in most any environment. In mountain streams and tailwaters, this fly catches trout. In spring, summer, fall and winter, this fly catches trout. It's no wonder this is one of the most popular nymphs of all time and why it would be on nearly every trout fisherman's must-have list. Nobody seems to care what it imitates or if it makes sense. Because it makes sense to the trout and that's all that matters.
Apparently, it also made sense to Doug Prince, the originator of the pattern. Doug was an innovative fly tyer who didn't get a lot of recognition because he mostly tied for himself, rather than producing fly patterns for shops and catalogs. It is believed that he created the Prince Nymph sometime in the early 1940's. He called it a Brown Forked Tail Nymph and fished it primarily on the King's River in California.
One of Doug's fishing buddies was Buz Buszek, a fly shop owner in California. Apparently Buz was in a rush one year to put out a catalog and wanted to include a peacock body nymph pattern. He decided to use Doug's pattern but couldn't remember that it was called a Brown Fork Tailed Nymph. He did, however, remember that it was Doug Prince's pattern, so he put it in the catalog as the Prince Nymph. The name stuck.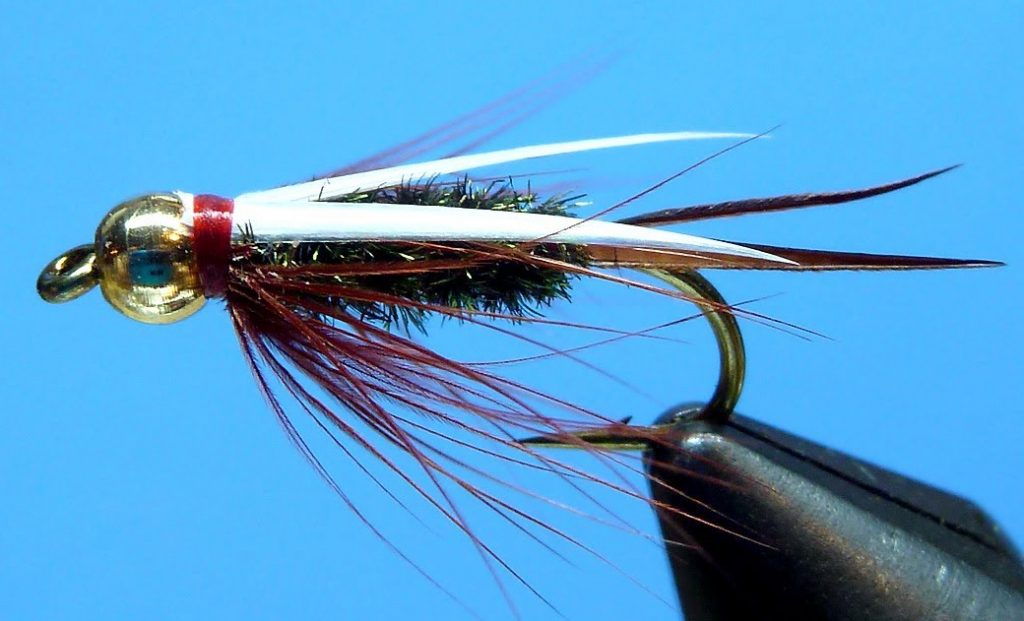 Because of its popularity, there have been countless variations of this fly over the years. Everyone seems to think they can take a great fly and make it better. While some are made with wire bodies and some have rubber legs, others use a flashy dubbed body or have a flashy, reflective material on top, in place of the traditional white goose biots. One of the earliest and probably most popular variations was the addition of a bead head.
Over the years, I've had success on most all of the variations. But in my opinion, nothing beats the old standard for catching fish in the Smokies. I tie and fish them in sizes #16 – #8, but most often use a #14. And I have success with them all year, but seem to do best with them in the "fringe months," when the water temperature is a little colder than ideal. In fact, the Prince Nymph is one of my most productive winter patterns, fished deep and slow.
So, if you've done much fly fishing, you likely know this pattern already. If not, definitely add some to your fly arsenal. The pattern for the traditional version is included below.
Prince Nymph
Hook: 2XL nymph hook, sizes 16-8
Thread: 8/0 claret
Weight: Non-lead wire to match hook size (typically .015 or .020)
Rib: Small to medium gold oval tinsel
Tail: Two brown goose biots, divided
Body: 2-4 strands of peacock herl (more on larger hook sizes)
Hackle: Brown hen feather
Wing: Two white goose biots, divided