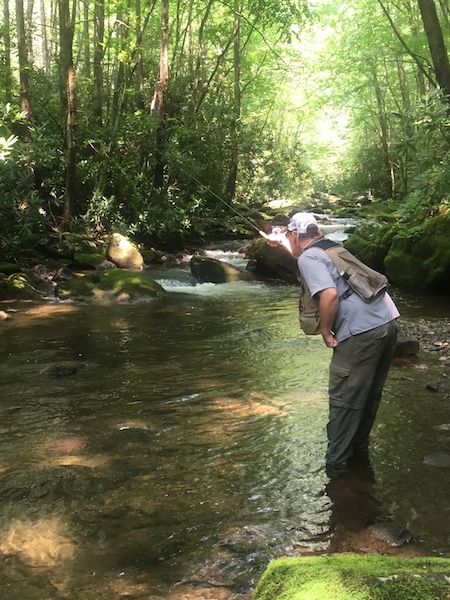 Many of you have already entered the world of tenkara. Others have probably at least heard a little bit about of it. Many fly fishers think its the greatest thing that's ever happened, and just as many more think it's just plain stupid. Regardless of what you may think, what many thought was a passing trend appears to be here to stay. So let's learn a little something about it.
The Big Picture
By definition, tenkara is an old, simplistic form of fly fishing that comes from Japan. The reason many think of it as simplistic is that there are very few moving parts. There is no reel and no extra line. There is just a single length of line that is attached to the tip of the rod.
The rods are on the longer side, typically 10 – 12′, but there are shorter and longer versions. This method of fishing often involves a single cast and the length of the rod is used to reach and keep much of the line off the water. So, it's a long rod with a single length of line attached to the end? Isn't that just cane pole fishing? Yes.
Anyone who tries to tell you differently is lying to you or themselves. It has been marketed as this revolutionary style of fly fishing, but it really is no different than fishing with a cane pole. But there's nothing wrong with that. Old timers in the Smokies fished this way for decades and caught A LOT of fish.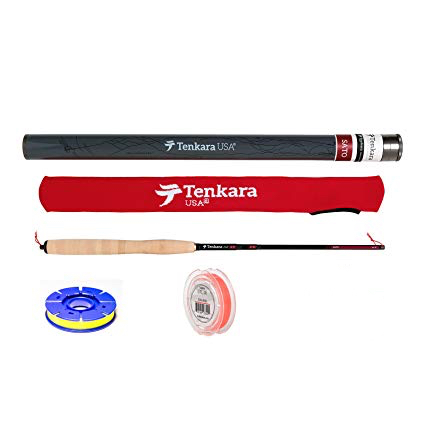 The only thing that makes it different is the use of more modern materials. Rods used for tenkara are made from carbon fiber and are very light weight. They are also telescopic, so that 12′ rod travels at about 18″. The tips are very fine so they have an incredible amount of feel. Old cane poles were long and heavy.
The lightweight and packability is a big reason they are so popular. They are just really easy to throw in a backpack. But many seem to think their simplicity equates to less stuff to carry, and I just haven't found that to be true. You may not need to have a reel, but you still need wading gear, flies, tippet, snips, water, etc. Sure you can just take the rod and some flies, but you could do that with a conventional fly rod. You'll just have a reel on the end. The simplicity is more with the technique.
The Technique
We have a tendency to complicate things. I can use a conventional fly rod and use the same techniques as you would with tenkara. I've done it for years. But when you add a reel full of line, many people want to cast farther than they need to, and consequently end up with too much line on too many currents, resulting in a poor presentation. When you remove the extra line from the equation – when you can only use a fixed amount – you are forced to read water and properly position yourself. And the longer rod allows more reach to do those things.
There are times when you need to make longer casts. In long, slow pools, you often can't get close to the fish without spooking them. Tenkara can put you at a significant disadvantage in these situations. I can't think of too many places on the Clinch River, with its long slicks, where tenkara would be very practical. But in the Smokies, where we have a lot of pocket water and riffles, it's deadly.

The Gear

Again, a tenkara rod is just a long, telescopic rod with no place for a reel. Since there is no extra moving line, there are no guides on the rod. At the tip of the rod is a permanently affixed piece of cord, called the lillian. You attach your line here.
There are a few types of line used for tenkara. Some prefer a braided line with a length of tippet on the end. Others use a long, single piece of heavy, often colored, piece of mono with a length of tippet on the end. I build a specific line when I fish tenkara. I build a taper with different diameters of colored mono and attach the appropriate size tippet to the end.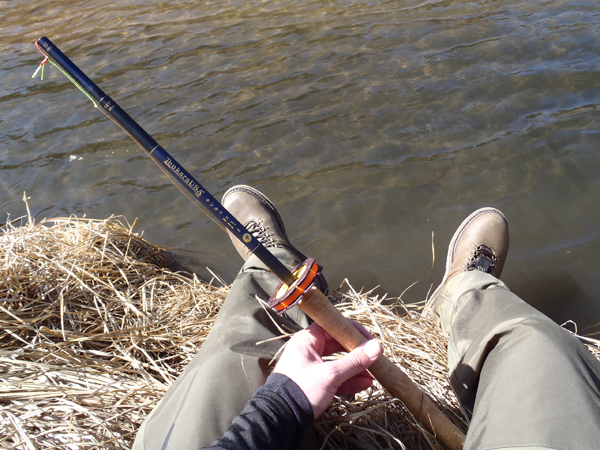 There are also a number of different line tenders you can use when you want to break down the rod but keep the line and fly attached. Some of these devices are actually on the butt of the rod and you wrap the line around them. Others are a separate wheel that you wrap the line around and slide the wheel on the rod. The more popular this becomes, the more gadgets appear.
You can also find specific tenkara flies. They always seem to be tied with an unusual inverted hackle. I'm sure they catch fish but I never bought into this. I choose flies based on fish, stream, season and conditions – not what type of rod I'm fishing.
Learn More
This is very much an overview. A quick Google search of tenkara will provide a lot more details. Tenkara USA is one of the better companies selling this gear and they have a number of instructional videos on their website to help with everything from rigging to technique. Of course, I am always happy to help with any of this on a guide trip, as well. Bring your own rod or use mine if you're just wanting to get a taste.