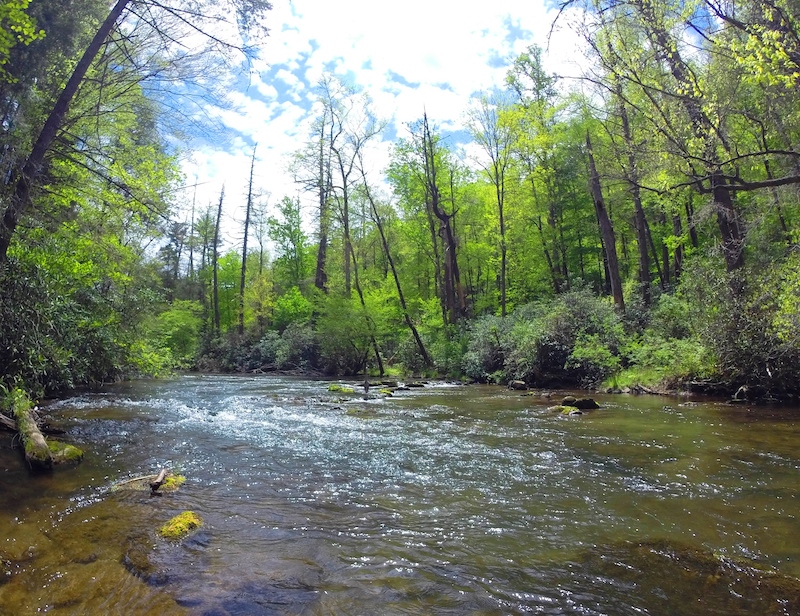 Abrams Creek is one of the best known trout streams in the national park if not the southeast. While its reputation is probably based more on how well it used to fish, it is still a top quality fishery and a very worthy destination.
Once a prolific brown trout fishery, Abrams consists primarily of rainbows these days. Though nobody seems too certain of the reason for the decline in brown trout, comfort is taken in the quality of rainbows that make this stream home. Abundant food and a slower flow of water likely account for these larger than average rainbows. However, with rainbows up to 18" in length a possibility, an 8" to 10" fish is more the norm.
There is really no road access to this stream but a trail follows it through the majority of the best trout water, which is located between Cades Cove and the Abrams Creek Campground. The stream actually originates above the cove from Anthony Creek. However, it is difficult to distinguish where Anthony Creek ends and where Abrams Creek begins. As a matter of fact, it is difficult to follow Abrams Creek at all as it flows through the pastures of Cades Cove due its temporary disappearance underground and reappearance in the form of springs.
In Cades Cove

It maintains this smaller spring creek characteristic throughout its journey through the cove and is difficult to reach with no road access. Furthermore, there is no trail through this stretch, and the terrain through Cades Cove is much rougher than you'd think! Cades Cove consists of an eleven mile, one lane driving loop that encircles the cove and grants tourists access to historic structures and viewable wildlife, all from the comfort of their automobile. During peak seasons, it can take up to three hours to drive around the loop with the always possible "bear jam" capable of shutting down traffic completely.
While there is no road that follows the stream through the cove, there are two roads that cut across the loop, Sparks Lane and Hyatt Lane. Both of these roads cross Abrams Creek. Sparks Lane is the first one you will encounter and will allow the quickest access. To reach it, enter the loop and drive .09 miles and it will be on your left. It will cross Abrams approximately .08 miles back. After fishing, you can exit by continuing on Sparks Lane to the other end and turning left, back onto the loop.
From this point you will only have about a mile and a half of the loop to travel before exiting. The second option is Hyatt Lane. To reach it, enter the loop and it will be 2.8 miles back on your left. Hyatt Lane crosses the stream about a mile back. As with Sparks Lane, you can exit by continuing back Hyatt to its end and turning left on the loop. From there you will have an approximate 3 mile drive before exiting the loop.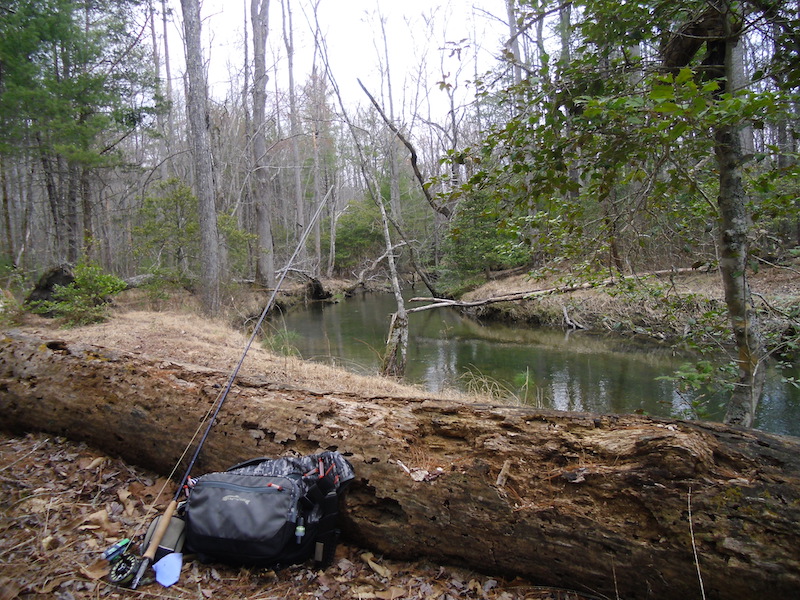 All of the water in the cove is relatively small and relatively slow moving. As a result, the fish can be extremely spooky. The best time to fish this stretch is typically after a decent rain when the water is a little high and slightly off color. I also tend to focus on early season to fish this stretch when water temps are lower and traffic in the cove is at a minimum. Winter fishing in the park is generally not fantastic but if you do decide to try your luck in January or February, this would probably be one of your better bets.
Above the Falls
After flowing out of the cove, the stream passes by a large parking area, also accessible via the loop road, and begins its approximate 15 mile tumble to Chilhowee Lake, with about half of that distance paralleled by trail. There are two practical ways to access this section of trail. The first is via the loop road.
Upon entering the loop, drive 4.8 miles and turn right at the sign indicating the Abrams Falls Trail. After turning, drive another half mile and there will be a large parking area. At this point you can actually fish upstream a pretty good ways, accessing the last of the "meadow water." There is not trail access but you'll see many well-beaten fisherman's paths. You can also access Abram's Falls Trail here, which will lead you downstream.
Although this trail parallels the stream for most of the way, there are several stretches where it is high above the water or there is enough thick growth to prevent access. So you may have to do a little scouting to plan your way in and out of the stream. When doing so, beware of the shoe!
The Infamous Horseshoe
One of the most notorious stretches of Abrams Creek is the horseshoe. When hiking the trail, you lose site of the stream for a short time, crest a ridge, and soon see the stream again. To the casual observer it might appear that you could hop in at one point and easily fish your way to the other, when in fact, the stream flows a considerable distance away from the trail, forming a horseshoe shape. This horseshoe of water is about a mile and a half long and requires a full day to fish. Furthermore, you have to fish pretty quickly. Failure to recognize this could result, as it has for many, in a feeble attempt to bushwhack back to the trail and ultimately spending the night there.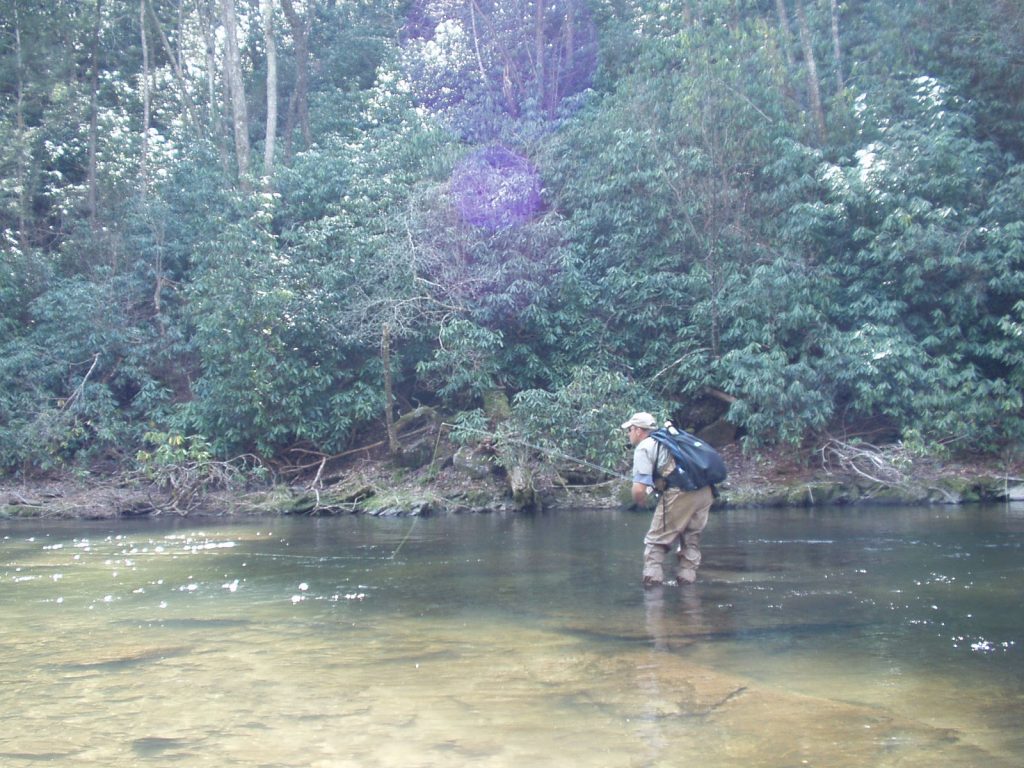 The horseshoe can be a great, remote stretch of water to fish. Just go in there properly prepared and plan to spend the day – a LONG day. Get an early start, pack a lunch, and take a buddy. If something happens, you'll be very hard to find! I also recommend taking a handheld GPS if you have one. This allows you to track your progress through the stretch and can let you know if you need to pick up the pace.
Continuing down the trail, there is another similar stretch of water just above Abrams Falls referred to as the "little shoe" or "baby shoe." It provides the same scenario as the horseshoe, only it is shorter in length. At least a half day should be dedicated to this stretch and the same precautions should be taken.
Below the Falls
The trail continues past Abrams Falls and then requires a short detour on Hatcher Mountain Trail and another change to Little Bottoms Trail to stay with the stream. Little Bottoms Trail, like Abrams Falls Trail, will parallel Abrams Creek but offers only select locations to get in and out. Ultimately, Little Bottoms Trail joins Cane Creek Trail and delivers you to the Abrams Creek Campground. Since you can reach this campground by automobile, driving to it and hiking up the trail make the most sense to access the stretch of Abrams below the falls.
To reach Abrams Creek Campground, travel south on 129 and turn left just past Foothills Parkway onto Happy Valley Road. Drive 5.8 miles back and turn right at the sign for Abrams Creek Campground. About a mile back, you will find a place to park just before entering the campground. The campground will allow you access to a little more of Abrams Creek before you get on the trail.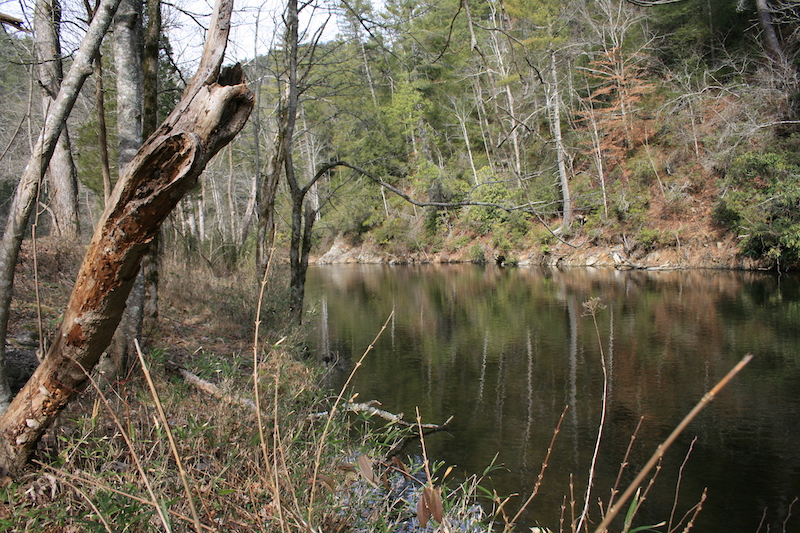 Below the campground, Abrams Creek is very difficult to access and much of it is too deep to wade. Because of this,the best way to fish this portion of the creek is to take a canoe up from the mouth of Abrams Creek – where it enters Chilhowee Lake. I've also seen fishermen in float tubes on this stretch.

While this lower stretch does get runs of trout from Chilhowee, particularly in the early part of the year, it is primarily home to smallmouth bass. The smallies grow to better than average sizes here and while they will take the occasional top water bug, they'll much more likely fall victim to streamers and large nymphs.
From the campground to the falls, you'll find a mix of rainbows and smallmouth with the percentage of rainbows steadily increasing the further up you go. From the falls up, it is almost entirely rainbows and it is this stretch, from the falls to the cove that I would deem the most consistently productive trout water on Abrams Creek.
Recommendations and Tips
When fishing this stretch, felt soles are a must if you want to stay upright. And even with felt there are no guarantees. With its long sloped rocks and silty bottom, this is without a doubt the slickest stream I've ever waded.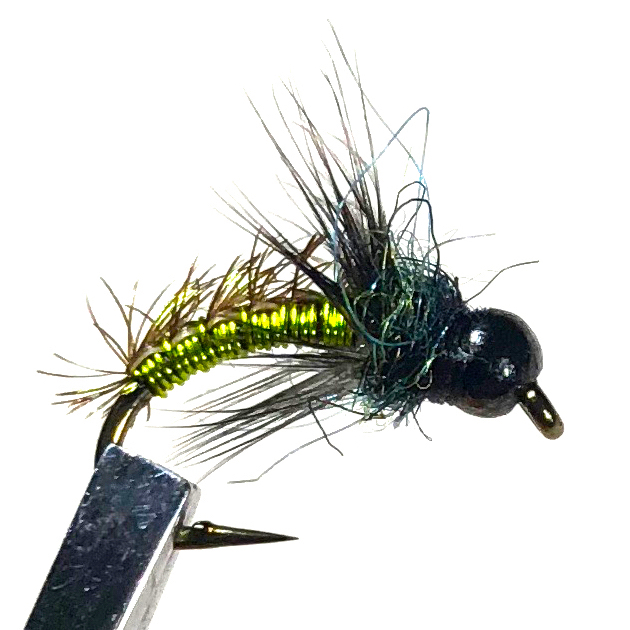 You'll do much better here in spring and fall. Furthermore, all of the standard Smoky Mountain fly patterns should serve you well here. Just make sure your fly box includes a selection of caddis in #18 – #14 range as hatches can be prolific.