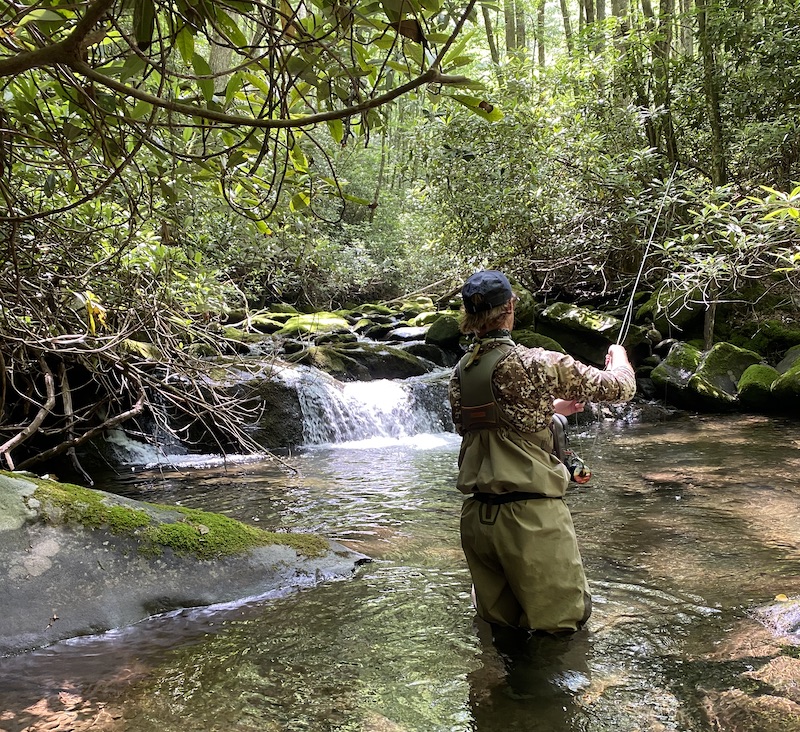 Mountains
Most years, things really start to heat up in July. Lower elevation streams will typically not fish very well as water temperatures are just too warm most of the day. If you're bound and determined to fish low elevation streams, get there early. Most will be fairly active from sunrise until probably 9 or 10 o'clock. They may also turn on for a short period just before sunset.
Mid and especially high elevation streams are the places to be in July which usually means you need to plan on doing some walking. While it's not an exact science, for every 1000′ you gain in elevation, the water temperature drops about 4-degrees. That can make a huge difference in fish activity!
July is usually a fairly wet month. While we don't often see the huge, organized rain systems of spring, afternoon thunderstorms seem to pop up daily. Consequently, water levels tend to stay at pretty good levels all month.
Hatches are sparse in summer. While there will most certainly be sporadic mayfly, stonefly and caddis sightings, they're not abundant enough to get the fish keyed in on a particular bug. So, generic "prospecting" flies should cover most situations. Dry flies in yellow and chartreuse are especially productive.
Of course, summer is also terrestrial time. Be sure to include a selection of beetles, ants and inchworms in your fly box!
Clinch
The Clinch finally started showing some decent wade schedules in June. However, as is often the case, they all to nothing and on many days, there wasn't nearly enough flow. Typical July flows usually have wadeable water in the morning with afternoon generation.
Not a lot changes on the Clinch when it comes to fly selection. Zebra Midges in size #18 and smaller are productive most days. Really any midge pattern in that size range is worth playing with. Small Pheasant Tail Nymphs are also a good bet.