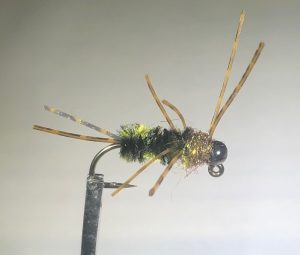 Once again, this is my variation of an existing pattern.  Pat's Rubber Legs is a stonefly pattern created by Idaho guide, Pat Bennett. But keeping it real, Pat's pattern is really just a variation of an older pattern called a Girdle Bug. I talked about this before, but what constitutes an original fly pattern and what is simply a variation on an old standard is a REALLY fine line!
The Girdle Bug also originated out west and is a very effective imitation for stoneflies, hellgrammites and any other big meaty nymph. Found most commonly in size #8 and bigger, it consists of lead wire, a black chenille body, and white rubber legs on the rear, front, and sides of the fly. Pat's Rubber Legs is the exact same thing but has variegated chenille rather than solid black, and uses a material called Spanflex rather than traditional round rubber legs.
Both are great patterns. I personally don't see any added value to the Spanflex material, but I do think the variegation provides a great and simple color contrast. Other stonefly patterns like the Bitch Creek Nymph and even my own pattern, Rob's Hellbender Nymph, have used a weave to achieve this contrast. But I sure like simple. And using the variegated chenille is way simpler than weaving!
While I have had a lot of success with the traditional Pat's Rubber Legs, it, like many big stonefly patterns, has a real tendency to hang the bottom. All heavy nymphs do. Many fly tyers, including me, have tried to strategically weight flies to reduce bottom snags with varying degrees of success. Of course, fly tying, like most anything else, has evolved over the years.  And in recent years, the evolution of European Nymphing has given us the micro jig hook.
Spin fishermen regularly use traditionally jig hooks. But they are just too heavy to cast effectively with a fly rod.  However, the newer micro jig hooks come in much smaller sizes. They use a specially cut tungsten bead to fit on the uniquely shaped hook. The result is a hook and bead combo that allows the fly to ride hook up – most of the time. Certainly with the faster and generally varied currents found on most trout streams, you're going to get some rotation on the fly.
To accommodate for this, I, and many other fly tyers, tie flies on these style hooks "in the round." This means the fly essentially looks the same from any angle. Flies tied with a very distinct top and bottom can look strange when the fly isn't oriented properly.  Tying the fly in the round insures the fish will get the proper view of the fly no matter how the hook is oriented.
I saw Pat's Rubber Legs, with its simple, variegated body, as a perfect candidate for a micro jig style fly.  The result is a heavy fly that you can fish deep and slow with minimal bottom snags. In addition, I frequently like to incorporate just a little flash to my nymphs for a subtle suggestion of movement. For my variation of this pattern, I added a small amount of Ice Dubbing behind the head. It's a great fly anytime of the year. I particularly like it in the colder months of winter when deep and slow is the name of the game. Give it a try!
Pat's Rubber Legs Micro Jig
Hook: Orvis 1P2A Tactical Jig Hook #8
Bead: Black 1/8" slotted tungsten
Thread: Brown 6/0
Body: Brown and yellow variegated chenille
Thorax: Pheasant Tail Ice Dubbing
Legs: Wapsi pumpkin barred Sili-Legs
Note: This recipe is for the golden stonefly nymphs common throughout the Smokies. You can alter colors to better imitate stoneflies or even hellgrammites in your local trout or smallmouth streams.