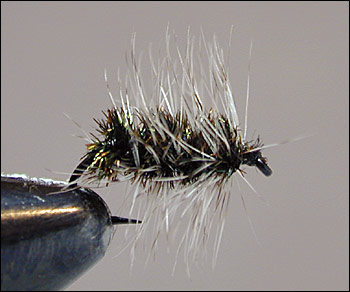 Colder months don't allow for much in the way of dry fly fishing in East Tennessee. When the water temperatures are in the 30's, it can be tough enough to catch fish on nymphs. But in early March, and during occasional warm stretches in January and February, water temperatures can climb just enough to produce a hatch.
Sometimes in these conditions, particularly on sunny days, bugs may start hatching but fish still opt not to expend the energy to feed on the surface. But there are often isolated areas, mostly slower pools, where they do feed rather methodically on the surface. I just can't pass an opportunity to catch a fish up top!
There are a variety of insects that are likely to hatch at these times. The most common are black caddis, black stoneflies, black midges, grey midges, and Blue Wing Olive mayflies. There's not a lot of rhyme or reason to what exactly might be hatching, or which bug the fish might be keying in on. And with the dry fly fishing being so sporadic and unreliable at that time of year, for most, it doesn't make a lot of sense to buy/tie a bunch of these patterns and carry them on the stream. Most will likely just end up rusting in your box!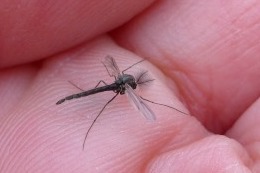 However, what these insects all have in common is they're dark in color and small in size. They're mostly #18 and smaller. The Griffith's Gnat is a small, dark dry fly generic enough to effectively imitate all of the above insects in most situations. So, rather than carrying four different sizes of six different fly patterns, I tend to carry Griffith's Gnats in sizes #18 – #22 and am able to fool all but the most selective of trout (and a few of them, too). I once fished a heavy Blue Wing Olive hatch where the fish were actively feeding on the surface. Many were refusing the Blue Wing Olive imitations but eating the Griffith's Gnat!
It's just one of those "must-have" flies that I always have in my box, and not just in the winter. It makes for a pretty effective ant imitation during the summer. It's also a great year round dry fly on tailwaters where midges hatch almost daily. If the fish are feeding on something small and dark, you've got more than a fighting chance with this fly.
There are always exceptions, but mostly I fish this fly on a dead drift. I typically use a longer leader and smaller tippet, usually 6X. For a small, dark fly, it's pretty visible so I often fish it by itself. But in choppier water, in tougher light conditions, or when I just want to give fish options, I will tie it as a dropper off the back of a slightly larger and more visible dry fly. If I tie it 18" off the back of a Parachute Adams, and I see a rise anywhere within 2' of that Adams, I set the hook.
If you tie your own, it's a really easy fly to tie. It was always one of the first flies I'd teach when I was teaching beginner fly tying classes. Or if you buy your flies, you can find them almost anywhere. Give it a try!
Learn more about Smoky Mountain hatches and flies in my hatch guide.