Every year, it seems every fly rod company comes out with a new rod that is not only supposed to cast itself, but is substantially lighter than its predecessor. As a matter of fact, the average graphite rod today is probably about 1/3 the weight of the average graphite rod of 30 years ago. And that difference is far more substantial when you start comparing the weight of today's graphite rods to the bamboo and fiberglass rods that your father or grandfather may have used. But none of this matters if your rod is not properly balanced by your reel.
It's a phenomenon called "levered weight." If you carry two 20lb. buckets of water, one in each hand, it will feel more comfortable than carrying just one 20lb. bucket of water in one hand. One side balances out the other. The same concept applies if you have the lightest fly rod on the market but have a reel on it that is too heavy. It will feel heavier in your hand than a heavier rod that is properly balanced by its reel.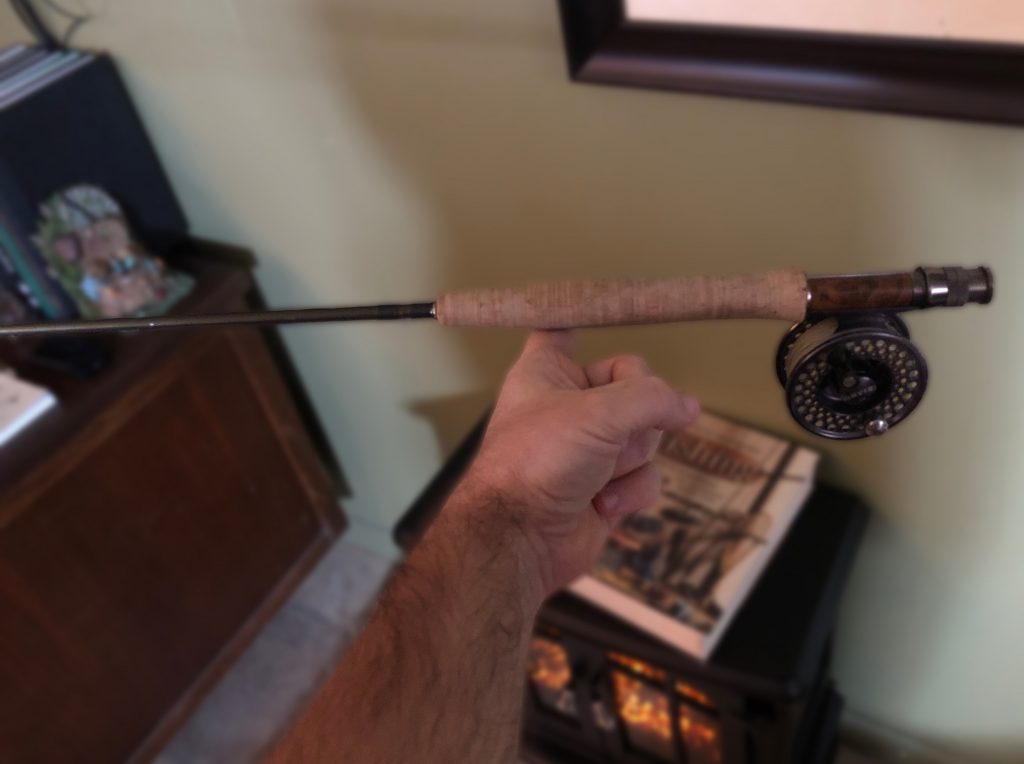 When it comes to trout fishing and really, most freshwater in general, your reel does not play a very significant role. Unless, you just have to have "the best," it is not necessary to sink a lot of money into a reel. However, just because it may not be the most important piece of equipment, doesn't mean you shouldn't put some consideration into things like its size. It needs to be big enough to comfortably hold the fly line and appropriate amount of backing, and it needs to balance the rod. In most cases, a rod and reel are balanced if it will self-balance when you set it on one finger positioned near the tip of the cork grip.
In the picture above, the reel is just a little too heavy for the rod. I prefer the balance point to be just a little closer to the tip of the cork. But it's close enough to not feel uncomfortable.
Most companies will designate specific reel sizes for specific line and rod sizes. If a reel is for 4 – 6 weight lines, it not only means it has the capacity to store those line sizes, but it should balance most 4 – 6 weight rods. Of course, things like the material from which the rod is made and the length of the rod can determine if it actually falls in the "balance range" of that particular reel. If your rod is a short, super light 4-weight, you may want to bump down to the next smaller size. On the other hand, if your rod is a 6-weight bamboo, you may want to bump up to the next larger reel size.
The design of the reel seat on the rod will also be a factor. Almost all modern graphite rods have an uplocking reel seat, which positions the reel just behind the cork grip. Some bamboo rods may have a downlocking reel seat, which puts the reel almost right at the butt of the rod. The latter can help when trying to balance a heavier rod.
As reels become lighter and lighter, it has become far more difficult to find appropriate size reels to balance bamboo rods. However, one reel manufacturer, Ursus, has designed a reel that has removable brass plates on the interior. The weight of the brass plates help to balance heavier bamboo rods. When using the reel on a lighter graphite rod, the plates can be removed. Pretty cool.
In any case, no matter what rod you fish with, keep this in mind when selecting your reel. It will greatly reduce casting fatigue and result in much more enjoyable days on the water!