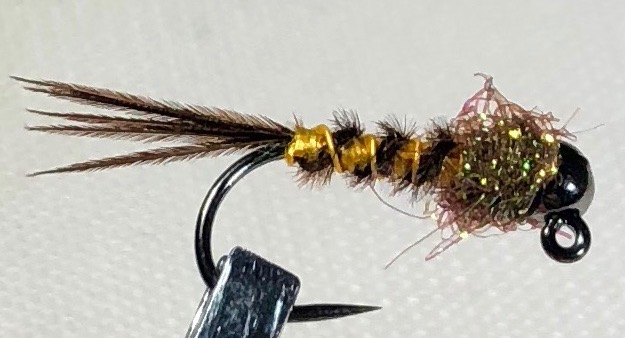 This is one of those flies I usually keep to myself but you caught me in a moment of weakness this month. There's nothing too special about it. However, it catches fish almost anytime of the year, it's durable and it's simple to tie. I suppose those traits make it special, at least to me. Guides go through a lot of flies and consequently, want something that consistently produces and can be mass-produced in a short amount of time.
Like most of my original fly patterns, this one is a variation of another pattern. Actually, this variation is a hybrid of two well-known fly patterns. The "PT" in its name stands for "Pheasant Tail." So, it's essentially a combination of a Tellico Nymph and a Pheasant Tail Nymph, stripped down to its bare, fish catching essentials. I tie it sparse so that it sinks quickly. Also, I use a micro jig hook to ride hook up, and reduce bottom snags.
I suppose it could imitate a number of different nymphs but I had the smaller stonefly nymphs in mind when I designed it. These Southern Appalachian streams are full of small and large stonefly nymphs but it seems that most stonefly patterns are designed to imitate the big ones. With the Little Yellow Sally stonefly hatch being one of the most prolific of the year, I was always surprised that there were so few patterns available to imitate the nymphs.
The yellow body combined with the pheasant tail accents seemed the perfect color combination, and it has just enough added flash to suggest movement. It works great as a dropper off a buoyant dry fly, yet, is equally effective drifted under a strike indicator or straight lined with what the kids today call Euro-nymphing. Whip a few up for yourself or feel free to contact me for a custom order.
Rob's PT Tellico Nymph
Hook: Orvis 1P2A (or equivalent) #18 – 14
Bead: Black slotted tungsten, sized to match hook
Bead Stabilizer: 8 turns of .010 non-toxic fly wire
Thread: 8/0 brown
Tail and Rib: 4-6 pheasant tail fibers
Counter Rib: Small yellow copper wire
Body: Yellow floss
Thorax: Pheasant Tail Ice Dub