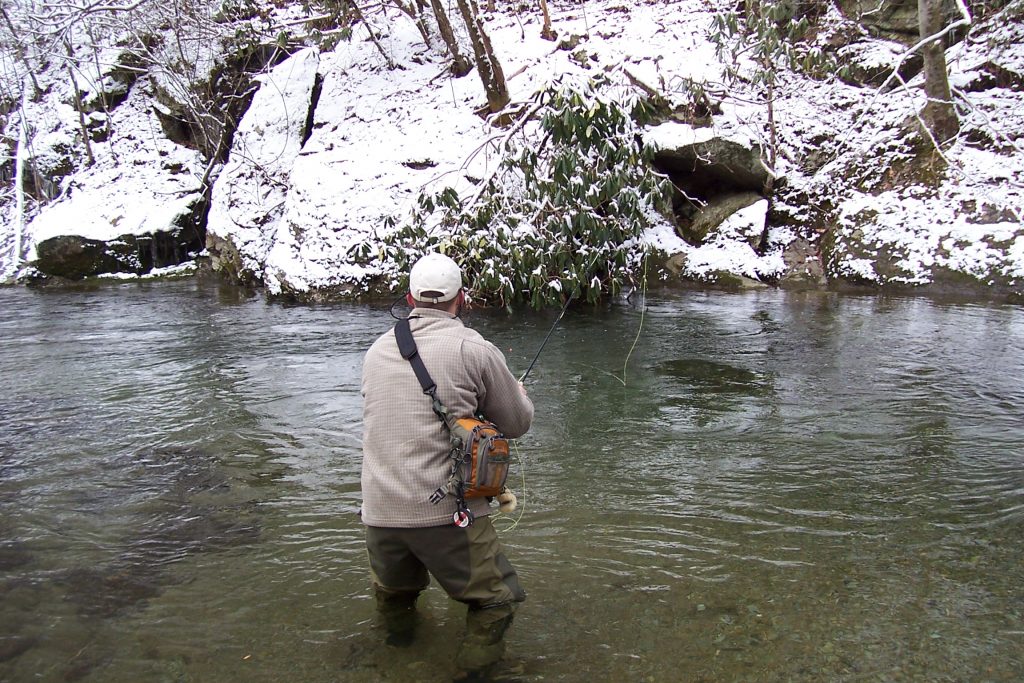 Smoky Mountains
January has been relatively mild for the most part but very wet. So water levels have been up more than they've been down. And even in a mild January we're talking about water temperatures in the 40's at best, so not exactly stellar fishing. But a few fish have been caught and the mountains look completely different in the winter, so it's always nice to get out.
February will likely be more of the same. You never know what you're going to get around here but February usually stays pretty cold and things don't consistently start warming up until about mid March. I know I sound like a broken record but I do find myself having to explain this to wannabe winter fishermen more than anything else… It's not that I'm worried about being uncomfortable in the cold. I have great gear and don't mind the cold one bit. It's all about the water temperature with wild fish and if that water temperature is significantly below 50-degrees, they just don't do much feeding.
And in the winter, it takes a lot to reach those temperatures. Even when you get a couple of nice 60-degree days, the overnight lows are still often in the 30's and your water temperature just won't climb much. When the days get longer and the overnight lows get warmer, you'll start to see better water temperatures and active fish!
If you do get out this month, expect to be nymphing. Go with darker patterns and try to fish them right on the bottom, focusing on pools and slower runs. Here's a little bit on winter fishing in the mountains.
Delayed Harvest
February is the last month for Delayed Harvest streams. These stocked fish should be quite a bit more active than their wild brothers in the Smokies. However, by February, poaching has usually taken its toll and there just aren't a lot of fish left. Nymphing will definitely be the ticket on these streams. Standard nymph patterns are worth a try and anything bright and shiny is a good bet!
Clinch River
As usual, the fishery that does have good water temperatures year round and should fish well in the winter is cranking 2+ generators 24 hours a day. Last year was a tough one on the Clinch. A very wet spring resulted in very few days of low water. Unfortunately, this year is starting out the same way. Man, every year seems to be flood or drought. Is an "average" year too much to ask for?