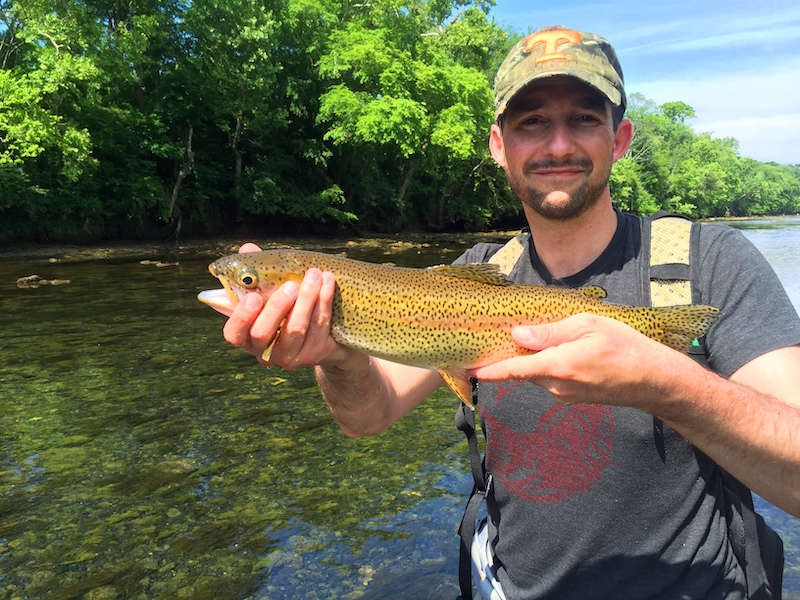 Smoky Mountains
May is traditionally a great month to fish in the Smokies and this year should be no different. With the mild temperatures seen in May, you have pretty much every option on the table, from low elevation roadside rivers to high elevation backcountry streams.
Hatches are usually at their best this time of year, too. During the day, you should see mayflies like March Browns and Light Cahills, a number of different caddis species, and the most prolific hatch in the Smokies, the Little Yellow Sally shtonefly. Toward the end of the month, you should also see some of the larger golden stones hatching. They are often seen in sizes #8-#6 but mostly hatch at night. However, trout are often still looking for them after sunrise, so a big dry fly like a Madame X can be a good bet in the mornings.
Speaking of nighttime hatches. The month of May often showcases some of the most consistent hatches of the year right before dark. From about 7pm until dark, look for hatches of sulphur mayflies coinciding with egg-laying Little Yellow Sallies.
Clinch River
As usual, the Clinch River is anyone's guess as far as water releases. We had some very favorable generation schedules through much of April and the fish was great. In recent days, they've been pushing quite a bit more water, leaving a much smaller window for the wade fisherman.
Typically, May is the month when the sulphur hatch really gets underway on the Clinch. We've seen a few popping off in recent weeks. When this hatch is in full swing, it's really something to see. Hopefully the water releases will cooperate!
Otherwise, it's the usual suspects on the Clinch. Beadhead Pheasant Tails and a variety of colors of Zebra Midges should do the trick.