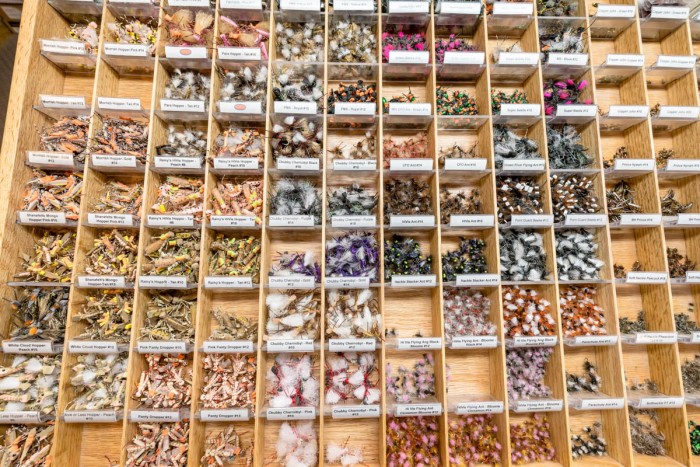 If you are new to fly fishing, particularly for trout, it is easy to be overwhelmed by the number of fly patterns available. Which ones do I need? What colors? What sizes? Do I need all of them? First of all, if you carry every trout fly with you, you need a wheelbarrow to go fly fishing! While there is no way to make it immediately simple, there are ways to simplify the process. As with many things in fly fishing, find a good starting point. Learn as you go from there.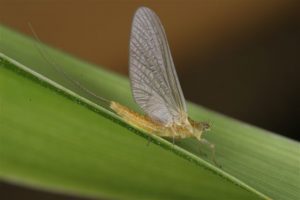 First, There are many fly patterns that imitate a very specific bug when it is hatching. These may only be relevant on certain rivers at a specific time of year. Some only imitate certain stages of that hatching insect's emergence. These hatches may involve hundreds of bugs coming off for hours out of the day, and maybe over the course of several weeks.
When that's the case, fish can get highly selective. They may ignore anything that doesn't look like what is actually hatching. You need to match the hatch. The heavier the hatch is, the more selective the fish can become. They may only focus on one stage of the emergence. For instance, they may opt to ignore the nymphs and adults, and purely key in on emergers just under the surface film.
This kind of situation can be exciting and frustrating at the same time while you try to unlock the puzzle. But these situations are rare. Most of the time, particularly in smaller mountain streams like the Smokies, you're not going to see many heavy hatches. Rather, there will be sporadic small hatches of a few different types of bugs. And the fish rarely key in on one specific bug. They can't afford to. Often, there won't be anything hatching at all.   So, a good starting point with trout flies is with a basic selection of attractor patterns in their most common size(s).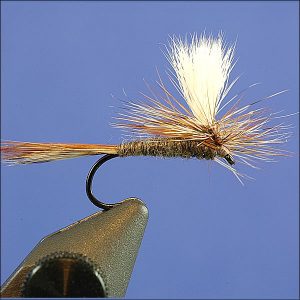 Attractor fly patterns, also referred to as generals, generics, or prospecting flies, are not designed to imitate anything in particular. They will either be rather drab looking flies, like a Parachute Adams, that look similar to a lot of food items. Or they may be something with some color that doesn't look like anything at all, like a Royal Wulff, intended to trigger a feeding response from a trout. In most situations, if you have a basic selection of attractors and you present them well, you can catch trout anywhere in the world.
Many of you may have seen, or even purchased, the Great 8 fly selectionfrom my online store. That's exactly what it is – a collection of eight dry, nymph, and streamer fly patterns that will work on trout most anywhere in the world.   Now if you ask ten different fishermen their eight must-have fly patterns, you won't get the exact same answer. But I guarantee you'll see a lot of similarity and crossover. A simple selection of these types of flies is a great place to start your fly collection. From there, you just gradually add fly patterns based on multiple sources and scenarios.
Maybe your buddy told you he did really well at Tremont on a size #12 Yellow Humpy. Pick up a couple and give them a try. Or maybe the guy at the fly shop said people have been doing well on #16 Copper Johns. Pick up a few of those. Or maybe you purchased my hatch guide for the Smokies and it indicated there should be good hatches of Light Cahills when you were coming. Better have a couple of Light Cahill patterns with you.
There are hatch guides and charts for most every popular trout fishery in the country and they can be very helpful. And the folks at the local fly shops are great sources for information. When they're not fishing, they're in the shop talking to people who have been fishing. They almost always have the most up to date information. After doing that for a while, you start to accumulate a lot of fly patterns. And through the process, you start to find your own personal favorites.
So, now that you have all of these patterns, how do you know what fly to fish when? Fly selection is about 1/3 experience, 1/3 scientific, and 1/3 dumb luck. If you fish an area a lot, you will begin to draw from past experiences to choose your fly. If I am fishing the Smokies in June, I don't have to actually see a beetle get eaten by a trout to make me decide to tie on a beetle pattern. For decades, I've done well on beetles in June. It will probably be one of the first flies I tie on.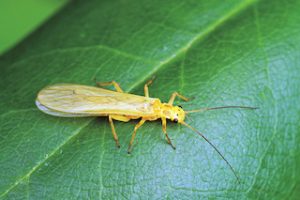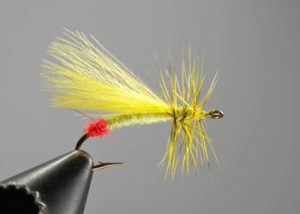 I might use a more scientific approach on water that is less familiar, or even on familiar water when something unusual is happening. The scientific approach could be reading something like a hatch guide and choosing a fly accordingly to match the flies that should be hatching. Or you could be on the water and see fish feeding on the surface. If you see an abundance of natural insects on the water or coming off the water, catch a couple in your hand and try to find an imitation in your box that is close in size, color, and profile. You can do the same thing with nymphs by turning over a couple of rocks and choosing a fly that resembles what you see.
The dumb luck method is just what it sounds like. The biggest brook trout I ever caught in the park came on a day when the fishing was tough. None of my usual patterns were producing and I wasn't having much luck matching naturals. I finally dug through my box and saw a fly I hadn't thought of, much less fished, in the last ten years. I figured I couldn't do much worse. So, I tried it and ended up catching several fish on it, including that big brookie. Don't be afraid to experiment.
Probably the most import thing to remember is that it is more often the archer, not the arrow. Too many fishermen blame their fly for a lack of success. With the exception of super big, technical hatches, specific fly patterns are probably not as important as most people make them. Approaching the fish without spooking them and putting a good drift over them with a "reasonable" fly pattern will catch fish most of the time.
Someone smarter than me once said that most people's favorite fly is the fly they happened to have on the first time the fishing was good. In other words, the fish were feeding well that day and probably would have hit most anything. But from that day forward you have confidence in that fly. It's often the first fly you tie on and it's the one you leave on the longest. There's a lot to be said for confidence.
Most of the big brown trout, probably 75%, I've caught in the Smokies have come on a Tellico Nymph. That may lead some people to believe there is something extra special about that fly. The truth is I spotted most of those big brown trout before fishing for them. And I usually tie on a Tellico Nymph when I fish to a big brown. Know why? It's the fly I happened to have on the first time I caught a big brown in the Smokies. There's a lot to be said for confidence.
Learn more about Smoky Mountain hatches and flies in my hatch guide.