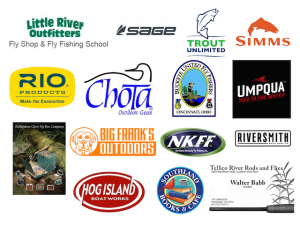 Listed below are a select group of businesses and organizations that I endorse and support, and that are very supportive of my business. Some of these are folks that I have a purely professional relationship with as a fly fishing "pro," while others are good friends and supporters of Fightmaster Fly Fishing. When it comes to products, I not only look for things that are well made and backed by exceptional service; I strive to use products made in the USA whenever I possibly can. This is getting more and more difficult, but most of the manufacturers listed below make at least some of their products in the USA.
Little River Outfitters is one of the finest fly shops in the country and is located right in my backyard in Townsend, TN. They've been in business since 1994 and I've been affiliated with them in one way or another since 1998. I am currently an instructor in their beginner fly fishing schools.
They have an amazing and diverse selection of products, but what really sets them apart from others is their friendly service and willingness to help anglers of any experience level. I've been in plenty of "old boy" fly shops where you walk in and quickly realize you're not part of their club. That is definitely not the case here! Pop in and see them when you can. When you can't, they have terrific online store with free shipping!
Trout Unlimited is also listed prominently on my Activism page. I list them here because in addition to being and organization I've supported for nearly 30 years, they do a great job of supporting me.
They have local chapters all over the country that are great places to meet like-minded folks, find a fishing buddy or get involved with local conservation projects. Visit their website to find a local chapter or learn other ways in which you can get involved.
Simms is located in Bozeman, Montana and has been outfitting fishermen since 1980. They are best known for their high quality waders, boots and rain jackets, but have a fantastic line of packs, apparel and other items as well. When it comes to products made in the USA, they definitely check my box.
While I've always known about their American made products, it really hit home in the spring of 2020. The well chronicled pandemic was just underway and people were scrambling for answers. The men and women on the front lines were woefully under-equipped and looking for solutions. Simms provided one of those solutions by converting their factory and making surgical gowns instead of waders for awhile. I can't imagine there has ever been a better surgical gown made!
When I heard about this, I wondered why other fly fishing companies weren't doing the same, and the answer was simple. They didn't have US factories to convert. Don't just say you wish more products were made in the USA. Support businesses like Simms that make many of their products here and that are willing to step up in times of need! Buy Simms products from local dealers like Little River Outfitters or visit their website for more information.
Sage is one of the biggest names in fly fishing and for nearly four decades, they have been making their fly rods one at a time in Bainbridge, Washington. Their reels are designed in the USA and use American made parts. Sage rods and reels are provided to clients on my guided fly fishing trips.
If you've ever fished with me, you have undoubtedly noticed and probably commented on my Richardson chest fly box. It is without question my favorite piece of fly fishing gear and something I've been using since 1999. Richardson chest fly boxes are the absolute epitome of American made craftsmanship. Robert Hegedus is the current owner and builds each box by hand, customized to your specifications. All come with a lifetime guarantee.
Chota is a Tennessee based fly fishing company that operates on a national stage. They specialize in waders and boots. As many of you know, I go through A LOT of wading boots and have worn and field tested most everything out there. To date, the Chota STL is the most durable boot I've ever used! The waders are great, too, and people love the Hippies!
Located in Oregon, Umpqua has produced some of the highest quality and most innovative fly patterns since 1972. Additionally, they offer some of the best hooks and fly materials around.
Designed and assembled in Boulder, Colorado, Riversmith makes durable, lockable, easy to mount rod carriers for your vehicle. The Riverquiver is what you've seen on my vehicle. If you're looking for a convenient and reliable way to store your fly rods, check out their website.
I bought my Hog Island skiff from Big Frank's Outdoors a couple of years ago. While I offer total endorsement of Hog Island boats, I wouldn't recommend buying it, or any similar boat, from anyone other than Big Frank's Outdoors. He can get most anything and can customize any boat to totally meet your needs. The service is fantastic and Frank is just one hell of a nice guy!
This is Walter Babb's business. It's difficult for me to not start gushing in this description because Walter is such a dear friend and respected mentor. If you've ever fished with me, chances are pretty good that you've heard at least one Walter Babb story! In addition to being a walking, talking encyclopedia of fly fishing knowledge and history, Walter is one of the finest makers of bamboo fly rods anywhere. If you've ever considered purchasing a bamboo rod, I wouldn't recommend anyone else.
Everything is custom. He prefers, if possible, that you come to the shop (his house) and cast different tapers to find what best suits you. He will then customize every detail from reel seat hardware to thread wraps to your preference. Walter is from the old school and doesn't have a website or use email. Call him at 423-337-6772 with inquiries. Since he doesn't have a website, I linked the header for his business to a wonderful Heartland Series video about him. Enjoy!
I can't say enough good things about these folks and what they are in the Maryville community. They handle some of my guide trip lunches and even the ones I make often use bread or sweets that they have baked.
There is a used bookstore with endless titles and an owner who is an encyclopedia of knowledge regarding pretty much anything ever written. The cafe has an enormous menu including most anything but is highlighted, at least in my opinion, by their homemade breads and sweets. And adjoining to the rear is The Bird and the Book, where you can enjoy most anything on the cafe menu plus an extensive selection of craft beers and wine. Stop in and see them if you're in the Maryville area.
Rio started in 1990 in the mountains of Idaho and has developed a reputation as the best innovator and producer of fly lines in the world. I exclusively use Rio fly lines, leaders and tippet on my guide trips.
BUFF is a fly fishing club located in Cincinnati, Ohio. If you're ever thinking of starting a fly fishing club, model it after these guys! I've had the pleasure to visit and speak to a lot of clubs over the years. All have their charms but I've never seen a more active, better organized club than BUFF and they have always been a tremendous supporter and promoter of me. I encourage you to check out their website to see all they do and become a member if you live anywhere in that vicinity.
I don't know what's in the water in Northern Kentucky and Southern Ohio, but if any club could give BUFF a run for its money, it's NKFF. This is another incredibly active club that is also a much valued and appreciated supporter of Fightmaster Fly Fishing.